QuickBooks Enterprise vs Sage 100 ERP
Softwarefit sets up a versus match-up comparing QuickBooks Enterprise vs Sage 100. True ERP software (Sage) has many more built in features than QuickBooks, but does that mean it is better? For some people, it does not. QuickBooks is great at writing checks, but struggles to report on data (like finances). An ERP system like Sage 100 has out-of-the-box reporting.
We set up a downloadable chart to compare Sage 100 vs QuickBooks Enterprise. You can download it below.

Before you download the chart, it is important to note the difference between ERP and accounting:
We can sum up the difference in this quote from BrainSell:
ERP software processes work orders, billing of materials and performs inventory services in addition to everyday accounting activities.
What should you be looking out for when comparing accounting software like QuickBooks and Sage ERP software? For starters, licensing costs (how much is this stuff going to cost me?). Depending on the size of your company, you may be interested in hosting your software on-premise or in the cloud. Most smaller companies (100 employees or less) choose to go with cloud-based ERP software, while smaller companies tend to host accounting software (QuickBooks Enterprise) on-premise (self-hosted).
To get all the same ERP software features with QuickBooks requires that you pay for add-ons. Depending on how many you get, QuickBooks Enterprise can still be cheaper than Sage 100, but Sage has even more options no matter what you add to Enterprise.
To compare costs between QuickBooks and Sage, download the chart below from our landing page. We've also taken the liberty of including Sage 300 (made for larger companies) in our comparison chart.
True Comparison: Quickbooks Enterprise vs Sage 100 ERP —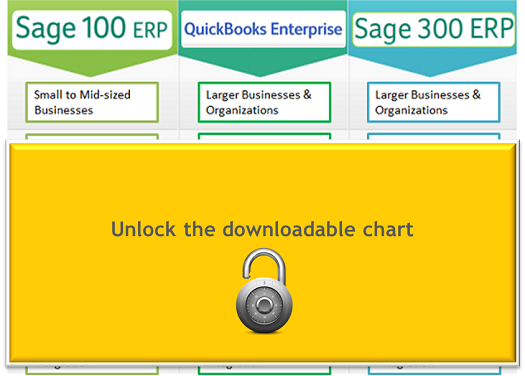 Detailed in the downloadable chart:
Typical company size that deals with QuickBooks Enterprise vs. Sage 100
Does the software handle more than one currency?
Is the software typically hosted on a cloud or on-premise?
Does the software handle more than one language?
Is there a solid mobile app for each product?
How much is the software going to cost (pricing)?
How does the software integrate with my CRM and marketing systems?